Minimize Attack Surface Risk.
Attack Surface Management is the continuous discovery, monitoring, evaluation, and remediation of attack surfaces within an organization. Your attack surface is defined as any asset within your interconnected network that could be leveraged by an attacker. TYCHON, an advanced endpoint analytics and remediation platform specifically designed to provide comprehensive enterprise endpoint asset visibility and automated continuous endpoint monitoring, is a powerful Attack Surface Management tool. Leveraging TYCHON, our users can search, visualize, remediate, and monitor every endpoint across their enterprise.
Discover
Identify, classify, and assess all your organization's assets, including shadow IT, using natural language questions and automated dashboards.
Request a Demo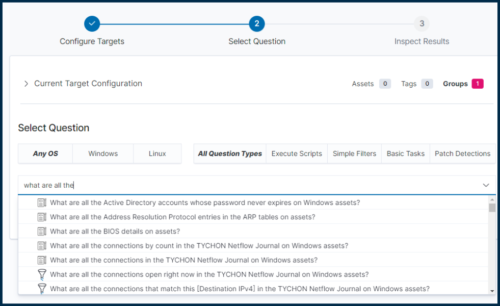 Monitor
Continuously monitor your assets to discover exposures, compliance violations, unknown assets, and more as your attack surface changes.
Prioritize
Use built in analytics, reports, and automated dashboards to analyze individual assets, evaluate risk levels, and prioritize remediation actions.
Request a Demo
Remediate
Take advantage of one-click remediations to ensure patch compliance, disable unauthorized accounts, quarantine non-compliant systems, and more.
We have experts at the ready
Contact Us to Learn More
"*" indicates required fields