Control of Every Endpoint.
TYCHON is an advanced endpoint security and management platform specifically designed and developed to provide comprehensive enterprise endpoint asset visibility and automated continuous endpoint monitoring to the DoD. TYCHON fully automates 100% of the DoD Cyber Hygiene Scorecard. TYCHON's Rapid Query (RQ) feature provides real-time visibility and control of every endpoint across the enterprise. Paired with TYCHON's other features, the TYCHON Enterprise Endpoint Management Platform provides robust endpoint situational awareness with rapid response.
Automate Your Scorecard
Take advantage of an automated DoD Cyber Hygiene scorecard via dynamic dashboards with drill in and drill through capability. Produce accurate reporting on cybersecurity posture for managers and supervisors and executive level views for senior leadership.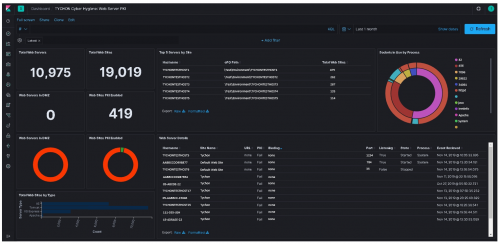 Request a Demo
Endpoint Security Solution
Ensure ESS, or legacy HBSS, modules are fully compliant and all assets are included in required patching and configuration reporting.
Endpoint Monitoring
Managed and Unmanaged Assets, Installed Operating Systems, & HBSS/ESS Installed Security Tools
User Activity, Logon Type & Email Compliance Validation
Risk Compliance (STIGs and IAVMs)
Web Servers (PKI/DMZ)
Installed Applications, Computer Configuration, System Authorization & Hardware Inventory
Request a Demo
Remediation
Enable one-click remediation and investigation, and automate responses for fuzzy variants to any threat intel feeds.
We have experts at the ready
Contact Us to Learn More